How do I become an EMT in Vermont
RC Health Services EMS Academy is the premiere provider of EMS Courses in the USA and is led by some of the finest EMS professionals in the industry. We offer a pathway to NREMT certification through our Nationwide Program.
The school was first established in 2010 by both CEO Robert Chambers, and the school's first Course Coordinator, Mr. Michael Lindamood. Michael Lindamood worked as an EMT Basic, a Paramedic, and Advanced instructor for over 30 years at the collegiate level before joining the RCHS team. Mr. Lindamood was the Chief Education Officer at RC Health Services from January 2010 until March of 2018. Currently, he is a senior adviser, instructor, and counselor at our Pearland facility. The Pearland campus trains more Emergency Medical Technicians than any other facility in the network.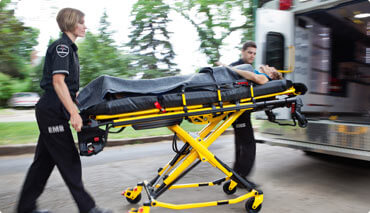 How does it work?
Complete the Didactic Portion online
Work at your own pace! The student has six months from the day they start to complete all aspects of the course. The student will spend 140 hours completing the didactic portion online at their own pace.
Complete the hands-on Skills Days
Each student will complete at least two skills practice days and at least one NREMT Skills Testing Day. These days are held at our facilities unless otherwise noted and are posted well in advance to accommodate our students' schedules and potential travel arrangements.
Complete the Clinical Rotations
RC Health Services clinical rotations are provided via several major hospitals and Municipal 911 EMS agencies throughout the United States. Students will complete 48 hours of clinical and/or field rotations.
Enrollment is simple! Here are the steps:
1
Complete the Program Application online.
2
Turn in a scanned copy of your government issued photo ID
RC Health Services aims to train the highest quality "street ready" EMTs that meet the ever-growing demand of highly skilled and knowledgeable healthcare workers.
Whether you're looking to start a career in EMS, or looking for practical, hands-on experience for nursing school, medical school, or PA school, the RC Health Services EMT-Basic Course in Pearland is the perfect place to start!
Tuition:
TOTAL TUITION INCLUDES:
eBook and audiobook
BLS for Healthcare Provider Class
Clinical Rotation Fees
Criminal Background Check
Drug Screen (done within 30 days of Clinical Orientation)
Clinical I.D. Badge
Liability Insurance
BEFORE YOUR CLINICAL ROTATIONS, YOU MUST TURN IN:
A medical history and physical form completed by your physician or clinic
Copies of proof of the required immunizations
Other forms required given upon enrollment