EMT Instructor Course Online
Welcome to our Texas and Georgia approved EMS Instructor Course!
This is a 12-16 week self-paced course that is intended for EMS professionals wishing to teach CE or initial training. You will have a maximum of 4 months to complete all aspects of this course. NO EXTENSIONS WILL BE GIVEN. Students will learn how to create effective quizzes and testing material, informative presentations and teaching skills for the modern work atmosphere. They will also learn Adult Learning Methodology as well as classroom tips to make your course stand out.
This course is designed to meet the needs of Texas and non-Texas EMS Professionals who need an "Adult Methods of Teaching" program. It can also be used by students from other disciplines to complete a minimum 40 hour "Adult Methods of Teaching" course or "EMS Instructor Course" if approved by their individual disciplines and various states.
This course also meets or exceeds the minimum requirements as stated in the "National EMS Educational Standards/Instructional Guidelines, "EMS Education Agenda for the Future," and the "2002 DOT National Highway Traffic Safety Administration Curriculum."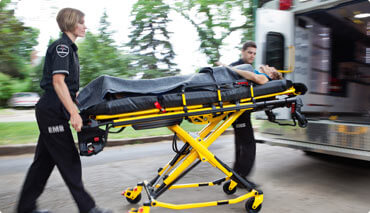 Out of State EMS Professionals: Please check with your respective State EMS Department if you are unsure of your state requirements for instructing EMS related courses.
Upon successful completion, the student will receive a course completion certificate and will be eligible to apply for TDSHS EMS Instructor certification or out of state Primary Instructor reciprocity.
Required course textbook: "Instructional Methods for Public Safety" by: William D. McClincy. ISBN# 978-0-7637-7608-4. Published by: Jones and Bartlett Learning
Total Average Hours to Complete:
EMS Program Instructor Course ~ 47-49 hours
Adult Methods of Teaching Course: ~ 47-49 hours
This is an average time only due to the nature of the structure of the program. Some students may need slightly more time or less time to complete the necessary components. However, students are required to demonstrate satisfactory performance on all assignments, projects, final project, and final written exam.
Technical Requirements: Windows or Apple based computer system. Minimum browsers for accessing Moodle: Firefox 4, Internet Explorer 8, Safari 5, Google Chrome 11, Opera 9 plus, and whatever plugins and applications you will need for the content you plan to use. YOU MUST ALSO ESTABLISH A GMAIL ACCOUNT IF YOU DO NOT HAVE ONE ALREADY.
Cost: $375 which includes the course textbook.