Online Advanced EMT Course
Welcome to our state approved Online Advanced/Intermediate EMT Course
AEMT - Advanced Emergency Medical Technician (formerly called EMT-I or EMT-Intermediate). The AEMT course is designed to train individuals in skills and knowledge necessary to complete the National Registry AEMT examination and achieve certification as an Advanced/Intermediate Emergency Medical Technician.
The course is open enrollment! Start your training today!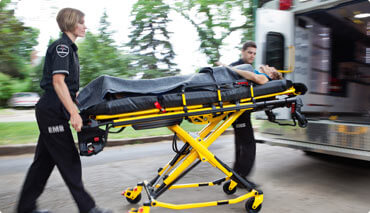 How does it work?
Complete the Didactic Portion online
Work at your own pace! The student has 10 months from the day they start to complete all aspects of the course. The student will spend 180 hours completing the didactic portion at their own pace.
Complete the hands-on Skills Days
Each student will complete 4 skills days. These days are posted in advance to accommodate our students' schedule. We offer these skills days at various locations in Texas as well as our two training centers in Atlanta!
Complete the Clinical Rotations
RC Health Services clinical rotations are provided via several major hospitals and Municipal 911 EMS agencies throughout Texas and Georgia. Students will complete a total of 96 hours of clinical and field time. Note: rotations in the hospital could be subject to change to field rotations given the COVID-19 pandemic and state regulatory climates.
Enrollment is simple! Here are the steps:
1
Complete the Program Application online.
2
Turn in a scanned copy of your government issued photo ID
3
Turn in proof of high school graduation or GED completion
4
Turn in a copy of your current AHA BLS Certification Card
Tuition:
TOTAL TUITION INCLUDES:
eBook and audiobook
Jones and Bartlett Advanced EMT Premiere Package
BLS for Healthcare Provider Class
Polo Shirt for Clinical Rotations
Clinical Rotation Fees
Criminal Background Check
Clinical I.D. Badge
Liability Insurance
Payment Plan Available!
BEFORE YOUR CLINICAL ROTATIONS, YOU MUST TURN IN:
A medical history and physical form completed by your physician or clinic
Copies of proof of the required immunizations
Other forms required given upon enrollment