American Heart Association Online Courses
Purchase Your Course Here
Benefits of on-line learning:
Students can "attend" a course at any time from anywhere
Visual learners have useful tools and learn faster than in a traditional classroom
Students can spend more or less time finishing a course
80% of a course is web based and 20% is hands-on and skill based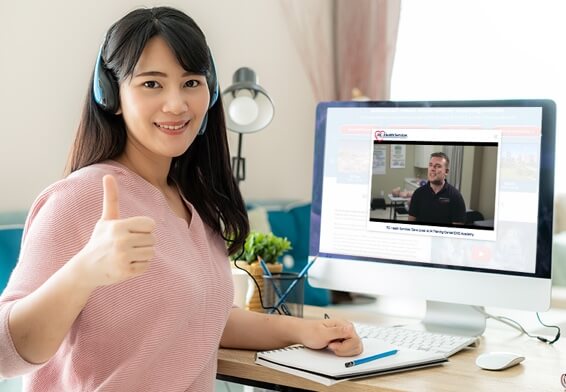 AHA On-line Course Format
Depending on course content, eLearning courses are delivered in one, two or three parts.
Courses that only involve cognitive learning can be completed online in one part. For courses that contain psychomotor skills such as CPR, students must complete an in-person skills session in addition to online learning. A skills session is comprised of Part 2, skills practice, and Part 3, skills testing.
This three-part delivery effectively blends cognitive learning with skills training. Students are not able to experience the delivery of physical skills from a PC, so eLearning is only as effective as the skills training provided.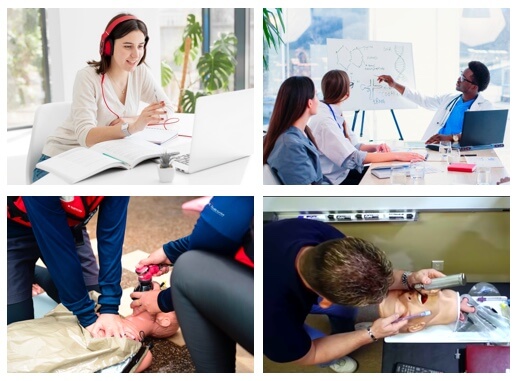 FOR SUCCESSFUL COURSE COMPLETION, AHA REQUIRES THAT ELEARNING COURSES WITH PSYCHOMOTOR SKILLS INCLUDE:
Part 1: online cognitive lessons—anytime and anywhere with computer access
Part 2: hands-on skills practice
Part 3: hands-on skills testing
"What is E-Learning"
Excerpts from E-Learning 1011
The following is an excerpt from Brandon Hall Research entitled, "E-Learning 101: An Introduction to E-Learning, Learning Tools and Technologies." This excerpt provides definitions for E-Learning, how to learn online, who uses it and how it is used.
Introduction
The meaning of the letter 'e' is vast and encompasses many fields – from astronomy to video games. Used in technology, 'e' means electronic. E-learning, then, is e-(lectronic) learning, just as e-mail is e-(lectronic) mail. The 'e' represents the means by which we receive or access learning – electronically, typically on the Web (online) via a Web browser. This 'e' has been described as the 'how' and the 'learning content' the 'what' (Clark & Mayer, 2003).
Notable definitions
Existing literature defines e-learning as instruction accessed electronically on a computer. This instruction could be a class, a course, or a discussion and could look like a book, a movie, a Web page, a game, or a combination of those things. E-learning can be bought or created from scratch.
Some other notable definitions of e-learning are listed below:
1. E-Learning is instruction that is delivered electronically, in part or wholly – via a Web browser, through the Internet or an intranet, or through multimedia platforms such as CD-ROM or DVD (Hall, 1997).
2. E-Learning is a structured, purposeful use of electronic system or computer in support of the learning process (Allen, 2003).
3. E-Learning covers a wide set of applications and processes, such as Web-based learning, computer-based learning, virtual classrooms, and digital collaboration. It includes delivering content via the Internet, intranet/extranet (LAN/WAN), audio and videotape, satellite broadcast, interactive TV, and CD-ROM (ASTD, 2001).
4. E-learning is training delivered on a computer (including CD-ROM, Internet, or intranet) that is designed to support individual learning or organizational performance goals (Clark and Mayer, 2003).
5. Web-based training [an alternate term for e-learning] is the integration of instructional practices and Internet capabilities to direct a learner toward a specified level of proficiency in a specified competency (Conrad, 2000).
How Do You Learn Online?
You don't have to be a computer geek to learn online. In fact, learning how to use a computer can be accomplished by taking an online course (e-learning). It's kind of like learning to cook while reading a cookbook (no interactivity), watching someone cook and practicing (some interactivity), or cooking an entire dinner with feedback and coaching from an expert chef (high interactivity).
How quickly or deeply someone learns depends on the level of interactivity received. It also depends on how someone learns. Different people learn in different ways, and elearning accommodates different learning styles, abilities, languages, ages, and cultures. This is true in e-learning and traditional face-to-face training. In the past, students have learned in a physical classroom with others, on-the-job, or with a book like a tutorial, often with a test. Elearning is the same – sometimes the learner is alone, sometimes he or she is learning with others at the same time, and sometimes he is learning with others at different times.
Who Uses E-Learning and How is it Used?
All types of organizations use e-learning – private sector/for profit, non-profit, governments, and educational institutions. Organizations use e-learning for many reasons – to save money, to reach geographically dispersed groups, to provide "anywhere-anytime" learning, to provide consistency, to ensure compliance with regulations, and to improve productivity, to name just a few. E-learning is often used for some of the following reasons: to provide introductory/orientation training, to provide remedial training, to provide certification training, to deliver academic courses (for credit), to promote products and services, to support organizational initiatives, to offer training to geographically disparate personnel, to offer a variety of learning opportunities, to coach and mentor learners, to standardize training/knowledge, and to provide software training. Organizations can purchase non-customized e-learning commercially off-the-shelf or can purchase customized content. Organizations can also create their own e-learning using various courseware development tools often called authoring tools (because you are the "author" of a course). Many organizations use a combination.1
1 Reference: E-Learning 101: An Introduction to E-Learning, Learning Tools, and Technologies, page 11-12, by Jane Clarey, Brandon Hall Research.
AHA Online Courses Heart Saver CPR/AED, BLS, First Aid, ACLS, PALS